Lifestyle
Top 10 ways to stop procrastination and complete the tasks appropriately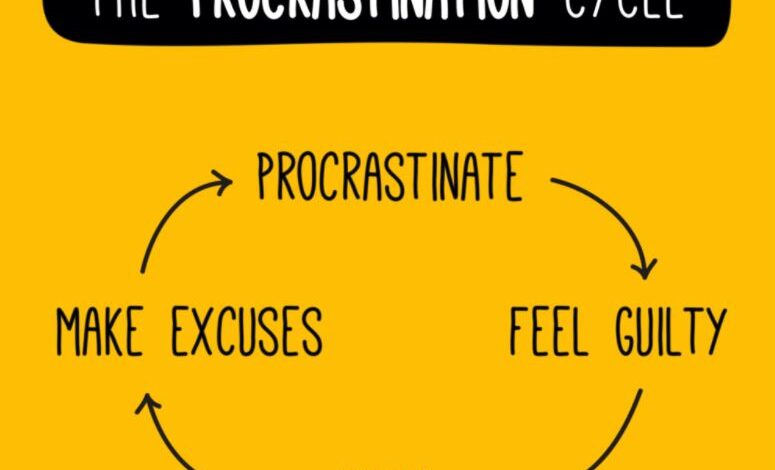 Introduction:
Every student's worst nightmare is procrastination. We know what we should do; we just don't want to. It's all too easy to put off unpleasant tasks until the last minute, but then we're compelled to pull a stress-induced all-nighter. We're fatigued, upset, and turning in an assignment that doesn't represent our finest work after seven cups of coffee.
Here are the top ten ways to overcome procrastination and finally get some sleep!
1. Make a plan
You can't work if you don't know what tasks need to be performed. Invest in a planner or start using your phone's calendar app. This greatly simplifies keeping track of specific assignments and critical deadlines. Do you need assistance getting started?
2. Establish simple, attainable goals
Part of the reason we procrastinate is that the task at hand appears too difficult. Setting modest, attainable goals rather than a large, hazy strategy makes it much easier to get started on a job. Rather than telling yourself, "I'll study biology tonight," tell yourself, "I'll study chapter six tonight." By dividing your goals down into smaller, more manageable activities, you may make them less frightening and more accessible. Checking off more chores as you go will make you feel more accomplished and motivated to keep going. Setting goals at the start of each semester is an excellent method to accomplish this.
3. Make a timeline
Create a timeframe to complete your goals when you've established them. If this is a study schedule, then you should study chapter five on Tuesday and chapter six on Wednesday, or perhaps an essay plan ("On Saturday, I will write the introductory paragraph and conclusion"). When a task is broken up into smaller parts over time, it is much easier to handle. In this way, you can stop procrastination.
4. Take care of yourself
Don't berate yourself if you fail to meet a deadline you set for yourself. (Or, at the very least, not excessively.) The first step toward changing your working style is to stop referring to yourself as a procrastinator. We are frequently what we believe ourselves to be. Consider the future rather than the past. And give yourself some leeway as you concentrate on making that extra effort to complete the job on time.
5. To avoid procrastination, use mindfulness practise
A steady meditation practice can also assist us in learning how to avoid procrastination. The more we sit with the mind, the more we become aware of its tendencies. That way, while we go about our lives, we may catch ourselves when a thought that would normally lead to procrastination comes—and then we learn not to indulge it. This is mindfulness in action when we bring this level of awareness to the topic at hand.
6. Awakening the Unconscious Mind
Our subconscious mind is the age of a five-year-old child. It's all about emotions, and it speaks in image language. What does this imply? Assume you want to focus on eliminating sweets, cigarettes, or fizzy drinks. Because your unconscious mind speaks the language of visuals, you wind up craving more of what you wish to give up. As a result, whatever your concentration is — for example, quitting smoking — will be regarded as a picture (in our case, a cigarette), and the more you will desire it. Our subconscious mind suppresses memories as well as any lingering negative feelings. We must identify the root cause of our procrastination.
7. Shut down your phone
To put it another way, cut off all distractions. Avoid any settings or external stimuli that may distract you. This entails creating a space of energy and focus for oneself in the middle of the craziness of daily living. But, let's face it, in an ideal world, there would be no laundry to wash, no last-minute cancellations of babysitters, no urgent aid from your team leader, and no emails that need to be answered right away. Despite the chaos, it is possible to find a peaceful, concentrated area. It's up to you whether you do it with mindfulness or a productivity-inspiring soundtrack on your headphones.
8. Adopt Anti-Procrastination Techniques
Procrastination is a habit — a deeply formed behavioural tendency. This means you won't be able to break it overnight. Habits only cease being habits when you stop doing them, so try as many of the tactics listed below as you can to give yourself the best chance of success. Forgive yourself for past procrastination. According to research, self-forgiveness might help you feel more positive about yourself and minimise the probability of future procrastination. Make a commitment to the work. Concentrate on doing rather than avoiding. Make a list of the chores you need to perform and set a time to complete them. This will enable you to approach your task more aggressively. Make a treat for yourself. If you finish a challenging task on time, treat yourself to a slice of cake or a cup of coffee from your favourite coffee shop. Also, be certain that you.
9. Make someone responsible for you
Bring in a buddy to assist you in overcoming procrastination. This can apply to both your work and personal life. Ask for advice from someone you trust, and hold yourself accountable to them. It's more difficult to let someone down than it is to let oneself down.
10. Take small measures
It's difficult to get started when you're not driven to achieve your goal. As a result, even the first modest step toward it will appear to be a success. For example, if you need to read something for your paper, spend ten minutes or so reading a page. You've already told your brain that a change has occurred after you've taken that action. Your naturally lazy mentality (we're all wired to be lazy) will no longer be able to resist. You will then create a momentum toward your goal that will carry you there like a wave.
Conclusion
Procrastination gets the best of us all—so never feel alone if it feels like a fight to get things done. Whenever you feel the temptation to procrastinate sneaking in, remind yourself of your goals, break down your duties into something more manageable, incorporate breaks, and remember that the hard work will all be worth it in the end.
It is true that introverts struggle with networking, but they can also excel at it.
Would you rather have a deeper discussion than a loud party? Are you tired of crowds? Does your alone time energize you? Then you're probably an introvert.
Use alternate channels: Online networking can help you balance out your gatherings and conferences. Twitter conversations and LinkedIn groups are excellent locations to communicate with colleagues and industry professionals from the comfort of your own home.
It is acceptable to ask for questions: Ask about how you got started in your career. Alternatively, what are your favourite plans? This makes you feel less alienated from social networking.
Take a chance: It's as simple as asking, "Can I join you?" "What are you talking about?" Finally, after introductions, allow the conversation to close around you.
You don't have to network all the time, and becoming one isn't necessary. The importance of networking with peers cannot be overstated.
Read Next : https://brainyline.com/how-bohemian-lifestyle-came-into-existence/