Other
Best places for camping in India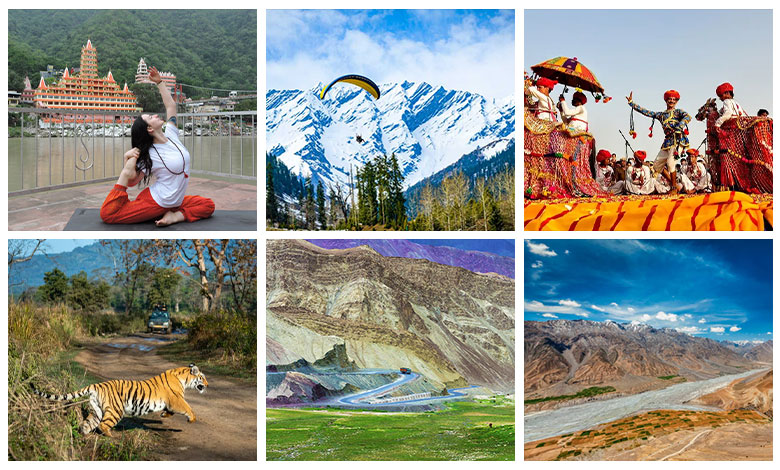 Introduction
Are you an adventure enthusiast who loves spending time in the lap of nature? India, with its diverse landscapes and breathtaking beauty, offers a plethora of options for camping enthusiasts. From the mighty Himalayas in the north to the pristine beaches in the south, India is a paradise for campers. In this article, we will explore some of the best places for camping in India, providing you with a comprehensive guide to plan your next camping adventure.
India's rich cultural heritage, diverse landscapes, and vibrant flora and fauna make it an ideal destination for camping. Whether you prefer mountains, beaches, forests, or deserts, India has something for everyone. Let's dive into the best camping destinations in India.
Rishikesh – The Yoga Capital of the World
Rishikesh, nestled in the foothills of the Himalayas, offers a unique camping experience. Camp along the banks of the holy river Ganges, surrounded by lush green forests. Indulge in adventure activities like river rafting, trekking, and cliff jumping during the day, and unwind with soothing yoga sessions in the evening.
Spiti Valley – An Oasis in the Trans-Himalayan Region
Located in the state of Himachal Pradesh, Spiti Valley is a hidden gem for camping enthusiasts. With its surreal landscapes, snow-capped peaks, and crystal-clear rivers, Spiti Valley provides a tranquil environment for camping. Experience the unique culture of the region by staying in traditional mud houses and exploring ancient monasteries.
Leh-Ladakh – Where Mountains Paint a Beautiful Canvas
Leh-Ladakh, known for its rugged terrains and picturesque landscapes, is a dream destination for camping. Set up your camp amidst the barren yet mesmerizing beauty of the Himalayas. Marvel at the pristine blue lakes, visit ancient monasteries, and indulge in thrilling activities like mountain biking and paragliding.
Jim Corbett National Park – Wildlife Encounters Amidst Nature
If you are a wildlife enthusiast, camping in Jim Corbett National Park is an unforgettable experience. Located in Uttarakhand, this national park is home to the majestic Bengal tiger and a wide variety of flora and fauna. Stay in jungle camps and embark on safaris to witness the untamed wilderness up close.
Goa – Camping by the Beach
Goa, known for its vibrant nightlife and stunning beaches, also offers an excellent camping experience. Set up your camp on the serene beaches, listen to the sound of waves crashing against the shore, and witness beautiful sunsets. Engage in water sports, explore the local markets, and indulge in delicious seafood during your camping trip.
Darjeeling – Camping in the Land of Tea Gardens
Darjeeling, famous for its tea gardens and panoramic views of the Himalayas, provides a refreshing camping experience. Wake up to the aroma of freshly brewed tea, explore the lush green tea estates, and savor the scenic beauty of the surrounding mountains. Don't forget to take a ride on the famous toy train, a UNESCO World Heritage Site.
Munnar – Tranquility Amidst the Tea Plantations
Located in the Western Ghats of Kerala, Munnar is a paradise for nature lovers. Camp amidst the vast expanse of tea plantations, surrounded by mist-covered mountains. Enjoy breathtaking views, visit waterfalls and wildlife sanctuaries, and rejuvenate your senses with Ayurvedic treatments.
Pushkar – A Spiritual and Cultural Camping Experience
Pushkar, a small town in Rajasthan, offers a unique camping experience blending spirituality and culture. Camp near the holy Pushkar Lake, visit the famous Brahma Temple, and immerse yourself in the vibrant atmosphere of the annual Pushkar Camel Fair. Explore the colorful markets and enjoy traditional Rajasthani cuisine during your camping trip.
Rann of Kutch – Camping Under the Starlit Sky
The vast salt marshes of the Rann of Kutch in Gujarat provide a surreal camping experience. Set up your camp on the white salt flats, witness the magical sunset, and stargaze under the clear night sky. Don't miss the opportunity to explore the rich cultural heritage of the region, including traditional handicrafts and folk music.
Coorg – Camping in the Coffee Plantations
Coorg, also known as the "Scotland of India," is a picturesque hill station in Karnataka. Camp amidst the lush coffee plantations, breathe in the aroma of coffee beans, and indulge in nature walks and bird watching. Experience the warm hospitality of the locals and savor Coorg's famous cuisine during your camping adventure.
Manali – A Haven for Adventure Seekers
Nestled in the mountains of Himachal Pradesh, Manali offers thrilling camping opportunities for adventure enthusiasts. Camp near the Beas River, surrounded by snow-capped peaks and pine forests. Engage in activities like trekking, skiing, and paragliding, and explore the nearby attractions like Rohtang Pass and Solang Valley.
Meghalaya – Exploring Nature's Abundance
Meghalaya, known as the "Abode of Clouds," is a northeastern state blessed with abundant natural beauty. Camp in the midst of lush green forests, visit enchanting waterfalls like Nohkalikai and Seven Sisters, and explore the living root bridges. Immerse yourself in the tranquility of this unexplored paradise.
Hampi – A Journey through History
Hampi, a UNESCO World Heritage Site in Karnataka, is a treasure trove of history and architectural marvels. Camp amidst the ruins of the Vijayanagara Empire, explore the ancient temples and palaces, and witness the stunning sunrise and sunset views. Hampi offers a unique blend of history, culture, and natural beauty.
Conclusion
India is a diverse country that offers a myriad of options for camping enthusiasts. From the majestic Himalayas to the serene beaches, each destination provides a unique experience. Whether you seek adventure, spirituality, or tranquility, these camping destinations in India have something for everyone. So pack your camping gear, embark on an unforgettable journey, and create memories that will last a lifetime.
FAQs
Q1. What are the best places for camping in India?
India offers a wide range of camping destinations catering to different preferences. Some of the best places for camping in India include Rishikesh, Spiti Valley, Leh-Ladakh, Jim Corbett National Park, Goa, Darjeeling, Munnar, Pushkar, Rann of Kutch, Coorg, Manali, Meghalaya, and Hampi.
Q2. Are these camping destinations safe?
Yes, these camping destinations in India are generally considered safe for tourists. However, it is always advisable to take necessary precautions, follow local guidelines, and be aware of your surroundings while camping.
Q3. What is the best time to go camping in India?
The ideal time for camping in India varies depending on the location. In general, the summer months (April to June) are suitable for camping in the mountains, while the winter months (October to February) are pleasant for coastal and desert camping. It's essential to research and plan according to the specific destination and its weather patterns.
Q4. Do I need to bring my camping equipment?
While some camping sites provide tents and basic amenities, it is recommended to carry your camping gear, including tents, sleeping bags, cooking utensils, and other essentials. However, you can also rent camping equipment from local operators at certain destinations.
Q5. Are there any age restrictions for camping in India?
Most camping destinations in India do not have strict age restrictions. However, it is advisable to check with the specific campsite or tour operator regarding any age limitations, especially for adventure activities or treks that require physical fitness.
In conclusion, India offers a plethora of breathtaking camping destinations, each with its unique charm and experiences. Whether you seek adventure, tranquility, or cultural exploration, these camping spots in India are sure to satisfy your wanderlust. Pack your bags, immerse yourself in nature, and create unforgettable memories as you camp in the best places India has to offer.