Travel
The Top 10 Best Island to Visit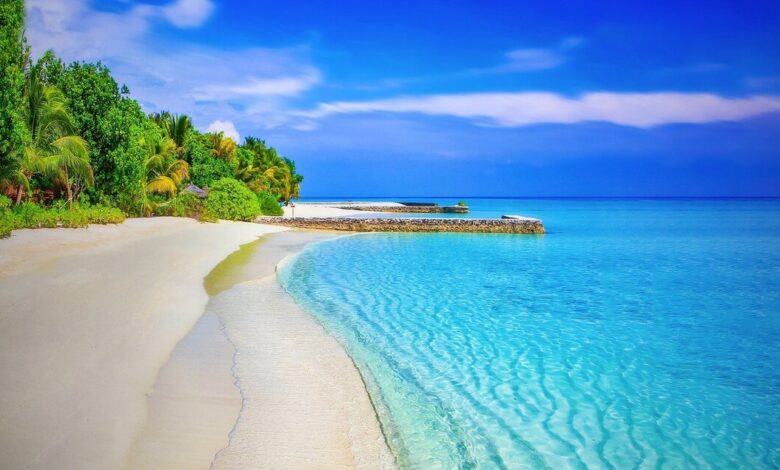 I think we are all in agreement that 2020 was not the year we expected. Many vacations and island getaways were put on hold as we took a deep breath and sigh. Instead, we fantasized about exotic locales and island getaways, and reminisced about what it was like to interact in a distant area. One thing is certain: when the borders open and we can get on that boat and hop to the next island, stroll onto those white sands or pebbled beaches, take in that pink sunset or orange sunrise, and breathe in that salty breeze, we will travel more mindfully and with appreciation.
Best Islands to Visit for Vacation
Maldives
Although the Maldives have some of the most stunning islands in the world, the sea is what makes these islands spectacular. Luminous turquoise waves with crystal clarity lap against these beautiful white shores that scarcely rise above the Indian Ocean. The Maldives archipelago, made up of 26 natural atolls, is the world's lowest lying nation, reaching little more than three meters above sea level at its highest point, a measurement that shrinks every year. Also, Read: Places to Visit in the Maldives
Bora Bora 
Innumerable South Pacific fantasies include this gorgeous volcanic island shaped like a huge hat. This tropical paradise is anchored by a remarkable lagoon in technicolor turquoise. In the clean waters, fish, turtles, sharks, and rays swim, while little islets or motus dot the lagoon. There is no denying that the island is unmistakably French and has delectable cuisine to match. The nearby reefs are popular with divers and snorkelers, and hiking trails wind through palm-studded woodlands.
Philippines
Palawan is the Philippines' equivalent of heaven. This island province reaches southwest to Borneo, with verdant limestone peaks rising from a jewel-like sea so clear from above that you can almost see the expressions on the fish. In addition to the white-sand beaches flanked by rustling palms, these jungle-clad islands are home to a diversity of tropical fish, making for some of the world's best diving.
Seychelles 
The Seychelles are worth traveling for because they are pristine and picture-perfect. East of Kenya, this relatively pristine archipelago of 115 coral and granite islands is filled with attractions, from UNESCO-listed jungles and blooming coral reefs to palm-lined, powdery beaches flanked by massive boulders. Most of the land area of these equatorial isles is protected, and several of them are surrounded by fish-rich marine reserves with outstanding diving and snorkeling opportunities. Also, Read: A Guide on Best Places to Visit in June at India
Santorini
Santorini, which is surrounded by a sea-filled caldera, is stunning for its dramatic beauty. Villas in bleached white tumble down volcanic rocks. Churches with blue domes rise out of the water, and bougainvillea sprays add a splash of color. The towns of Firá and Oia, perched atop the black lava cliffs, are the island's most attractive — and expensive — getaways, with Oia ranking among the most photographed locales in the world.
The Cook Islands
If you've ever wanted to be a castaway in the South Pacific, the Cook Islands are the place to be. The archipelago's 15 islands are among the South Pacific's underappreciated jewels, strung between French Polynesia and Samoa but with close ties to New Zealand. Attractions on the islands include alluring turquoise lagoons, palm-fringed beaches, and volcanic summits. The islanders are also among the friendliest in the South Pacific.
Bali 
Bali's enticing culture is a sensory overload. The aroma of incense wafts from Hindu temples, rice paddies flash electric green, and the food tingles the taste receptors. There are many things to do on the island's gorgeous beaches, including surfing, swimming, and sunbathing, as well as temple hopping, sightseeing, spa treatments, shopping, and hiking.
Dalmatian Islands
The Dalmatian Islands, located in the Adriatic Sea off the coast of Croatia, are an appealing blend of calm charm and rich history. These beautiful isles are dotted with charming villages, boutique hotels, and restaurants and are bordered by sparkling seas and some of Croatia's best beaches.Brac, with its famous beach strip of Zlatni Rat, is at the top of the list (Golden Horn). Hvar is equally lovely, with Gothic cathedrals, a pedestrian-only old town, and a charming fishing harbor. You may fly across to the picturesque Pakleni Islands, which are noted for their crystal-clear sea and hidden bays.