Travel
Top 10 Travel Hacks That Make Your Trip A Piece OF Cake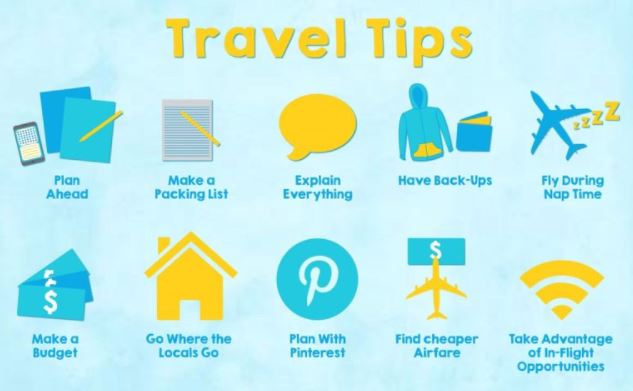 Introduction
Exploring uncharted corners of the world, whether domestically or globally, is a hobby pursued by hundreds of millions of people each year. Travel can be even more valuable for families because it allows parents to introduce their children to new experiences that may not be normal for them. Having said that, travel is full of joy, but there are also some stress-inducing factors that can ruin a vacation. 
Let's look at 10 tips for planning a vacation that will make your time there more enjoyable, comfortable, and efficient.
1. Before you leave, here are some travel hacks
If you're travelling with your family or alone, consider renting a home rather than staying in a hotel. Look at the websites that provide homes and rooms for rent from homeowners, usually more affordable than hotels. Roll your garments when packing. When you roll your suitcase instead of folding it, you can fit more items inside. To save space, you may even roll your underwear and socks inside your clothes.
2. To prevent pickpockets from taking your stuff, purchase a dummy wallet
You don't want to wake up in a new country with no money in your pocket. While the image may appear to be quite exciting and movie-like, the end result might be quite unpleasant. While you may desire to go without concern, pickpocketing is a typical occurrence if you have a bad day. Carry a dummy wallet with you to confuse pickpockets if you want to avoid such situations on your travel and enjoy every moment without continually reaching for your pocket to see if your wallet is still there.
3. To make your flight more bearable, use compression socks
Compression socks can literally save your life. When you land and discover your ankles swollen and hurting when you go to fetch your luggage, it can ruin your entire holiday. While the danger of getting blood clots during a flight is modest, it increases with travel length. Compression socks might help you deal with such situations. On a lengthy journey, these stockings aid boost circulation and lower the danger of swelling or worse, deep vein thrombosis (DVT) and clotting.
4. Always keep a pen in your bag or pocket
A pen is usually useful in the modern world, and asking a stranger for one every time you need to sign a paper or jot down a detail might be a tedious chore. So, always bring a pen in your luggage or pocket while travelling to save time and make things easier to handle. So, that was our list of a few things you can do to make your vacation less stressful. Try a few of them out, and who knows, you might return home with an intriguing story to tell about how your jet lag went away in an hour or how you saved yourself from a thief.
5. When you arrive in a new city, these travel hacks can help
Take the direct route to baggage claim. You find it amazing how many people seem to lollygag after landing. If you want to save time and avoid confrontations with fellow travellers, leave that for another destination. Use ATMs to get local currency. The exchange rates at airport money changers are often rip-offs, and the costs are high. If you want your money in local currency, you can withdraw it from an ATM with a debit or credit card.
6. Install Google Maps offline
If you don't trust your data connection or like to have backups to feel travel safe, you can always try downloading Google Maps so that you can use it even when you're not connected to the internet. All you need is sufficient storage space on your phone. Downloading Google Maps is straightforward- Navigate to the location on the map you want to save, type OK map into the search box, and then click Download.
7. Always keep a portable charger on hand
Phones have become a personal source of entertainment and a source of guidance, as well as a buddy, a mentor, and a guide in the world of today. It seems like a nightmare to carry around a dead phone without a charger, doesn't it? If you find yourself in such a situation, always bring a portable charger and a power bank with you to make your travelling smoother.
8. While Visiting Your New Location, these travel hacks can help
Use guidebooks with caution. It helps you to find places that are off the beaten path. Guidebooks only show you tourist attractions, even if they pitch themselves as being off the main path. Try to communicate in the native language as much as possible. It not only reflects positively on you but also on your nationality in general. It demonstrates your willingness to put forth the effort, which can work to your advantage in some scenarios.
9. Scan your passport and email it to yourself
While a hard copy is always useful to have on hand, forgetfulness can be an illness that follows you around for the rest of your life. Emailing yourself a scan of your passport is the most secure approach to ensure that a copy of your passport is only a mouse click away. Simple procedures like these can save you a lot of time and trouble in the future.
10. While returning home, these travel hacks can help  
If you are a regular traveller, keep your toiletries bag packed at all times. This will make packing a little easier and will save you from having to buy pricey toiletries if you forget something. When you walk in the door, start unpacking right away. You may feel exhausted, but you'll be glad you did it first thing in the morning. It also prevents your luggage from smelling like filthy clothes.
Conclusion 
 Travelling is an excellent form of pleasure for people of all ages. On the one hand, it aids in the development of a deeper understanding of oneself, one's views, and one's life. On the other hand, it gives people a better grasp of the world they live in, even if it is outside of their immediate surroundings. Furthermore, it may assist a person in feeling connected to the numerous people that live throughout the world. Regardless, their lives may never intersect, or they may be so dissimilar that they may be from different planets.
Read Next : https://brainyline.com/top-10-ways-to-stop-procrastination-and-complete-the-tasks/