Travel
Top 10 Famous Waterfalls in India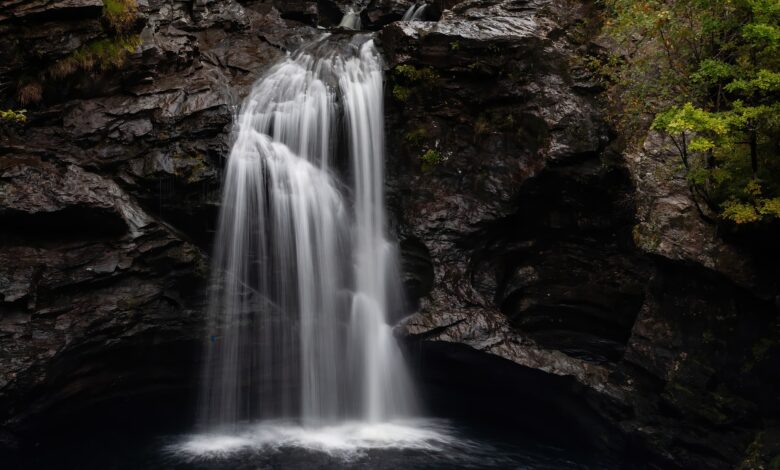 What a sight it is to witness water rushing from such great heights into the lowlands. The peaceful weather, the clear water, and the beautiful emerald rolling slopes combine to create one of the most stunning jaw-dropping sights on the planet. Waterfalls are very amazing and a gift from Mother Nature to mankind. India is famous for numerous things, but waterfalls are the most well-known. Famous waterfalls in India are awe-inspiring sights that leave you awestruck. Here is a list of the top 10 Famous waterfalls in India. Which one would you pick?
List of 10 Waterfalls in India
Do you want to see the most magnificent waterfalls in India? Mighty waterfalls attest to nature's magnificent efforts. Their beauty, energy, music, and craziness serve as encouragement to others. Prepare to be awestruck by nature's most magnificent panoramas this summer. Here's a list of popular waterfalls in India that will take your breath away.
1. Athirapally Waterfalls, Kerala
The Athirappilly Waterfalls, Kerala's greatest falls, are a wonderful destination to spend the monsoons with your better half. The sizzling silver water droplets fall into the lush green forest, home to animals such as the Great Indian Hornbill, Cochin Forest Cane Turtle, and Nilgiri Langur. Athirappilly Falls, sometimes known as the "Niagara of India," may make anybody fall in love at first sight. This is one of the most beautiful waterfalls in India which everyone should not miss.
2. Bhagsu Waterfalls, Himachal Pradesh
If you visit McLeod Ganj and do not see the Bhagsu waterfalls, you are most likely missing out on the finest natural treasure the area has to offer. It may not be the largest fall in India, but its beauty is what will draw you to it. Bhagsu is a technophile's paradise. If you're searching for some peace in your life, this hippy haven is the place to go! This is one of the most stunning waterfalls in India, not only in McLeodganj.
3. Soochippara Falls, Kerala
Soochipara Falls, also known as Sentinel Rock Waterfalls, is located in Vellarimala hamlet, 23 kilometres from Kalpetta. The waterfall is well-known for being a popular picnic and trekking destination. The location is great for rock climbing and has a breathtaking outlook. A nice venue to meet up with your friends. Also, Read: Top Travel Tips To Enjoy The Journey
4. Elephant Falls, Shillong
In the Scottish capital of the east, Shillong lies Elephant falls. The three components of the waterfall that run in succession are what set this waterfall apart from the rest of Shillong's natural wonders. It is one of the busiest tourist destinations in the area, especially during the monsoon season. During this season, the fall is in full swing, and even the locals can't help but want to catch a look at this magnificent fall. So, if you want to visit the falls around that period, make sure you know what to expect.
5. Jog Falls, Karnataka
Jog Falls, located on the district border of Shimoga and Uttara Kannada, is India's second highest plunge and tallest un-tiered waterfall. The intriguing Jog Falls, surrounded by beautiful green woodlands, creates an eerie image. Swimming aficionados can trek down to the river's mouth and dive into the water. You may also go up to the Watkins platform for a breathtaking perspective of the area. The surrounding region is ideal for hiking. Traveling there should be an obvious decision when there is so much action packed into a single location!
6. Nuranang falls, Arunachal Pradesh 
Nuranang falls, also known as Bong Bong falls, are one of nature's unknown beauties located in Arunachal Pradesh's Tawang region. This waterfall, surrounded by Tawang's mysterious vistas, is quickly becoming one of the top tourist attractions in North East India. You must have a government permit to visit Arunachal Pradesh, so make sure you have all of your documentation in order before heading to this wonderful fall. This is one of India's popular waterfalls.
7. Nohkalikai Falls, Cherrapunji
This epic narrative is set in Cherrapunji, India's wettest location. The 335-meter-high falls rise, roar, and splash on the rocks with a tremendous roar that can be heard even from the viewing gallery, which is built at a safe distance away from the falls. The environment is breathtaking, and the location offers some classic photo opportunities for seasoned photographers. The fog sticking to the bottom of the furiously running falls creates an unforgettable image.
8. Bhimlat Falls, Rajasthan
In the state of Rajasthan, which is known for its sand-covered deserts, sweltering afternoons, and bitterly chilly evenings, Bhimlat falls do a fantastic job of defying stereotypes. Bhimlat, located in Bundi, exhales the finest of its attractiveness during the monsoon season. The 60-meter-high waterfall provides a welcome aesthetic break during Rajasthan's sweltering summers. Don't miss out on this natural beauty if you're planning a trip to the state.
9. Iruppu Falls, Karnataka
Iruppu Falls, located in the Scotland of India, are unquestionably a beauty of Coorg. This breathtaking natural wonder is recognised for its pristine beauty that is just waiting to be discovered. These falls, which cascade from a height of roughly 170 feet above sea level, are notable for their steep stairs and a wooden bridge that serves as a lookout. Iruppu Falls, also known as Lakshmana Tirtha Falls, is located on the Kaveri River and offer some of the most relaxing vistas one has ever seen.
10. Talakona Waterfalls, Andhra Pradesh
A magnificent waterfall cascading down into a plunge pool from a height of roughly 270 feet may be seen in the Sri Venkateswara National Park near Chittoor. These waterfalls are surrounded by beautiful greenery that is pleasing to the eyes and spirit. According to legend, the waters of these falls are infused with plants that have therapeutic properties. Talakona Waterfalls was designated as a biosphere reserve back in the day because to the large number of plant species that can be found in this area. Also Read: Unique Places to Visit in India
In general, waterfalls arise when horizontal bands of resistant rock are overexposed to less resistant rock. The soft rock erodes faster than the hard rock, resulting in a step; this also happens when meltwater falls over the edge of a tabular iceberg or ice shelf. This sort of land shape is typically developed in the upper course of a river when lakes pour into valleys of high mountains.