Travel
All About Houseboat Tourism in Kerala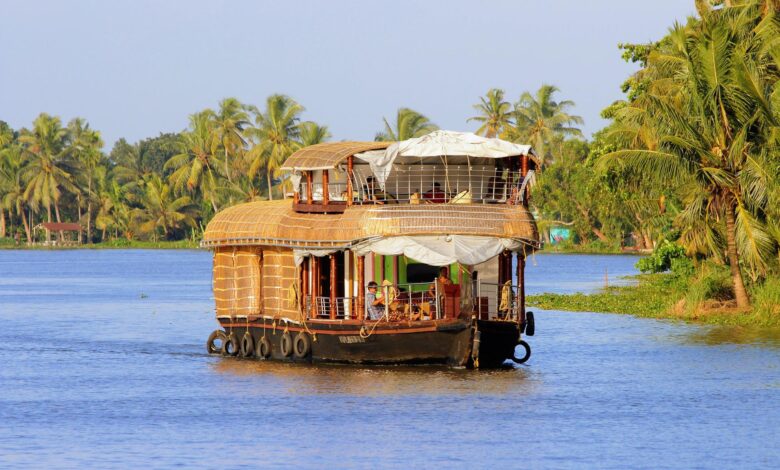 The Kerala Backwaters have an aesthetically pleasant and picturesque water network of gorgeous lakes that offer you a relaxing time during your vacation. Its journey via several canals and scenic twists and turns captivates tourists. An exciting and once-in-a-lifetime experience with a unique Kerala product will let you embellish your travel diary in a fresh way. The most romantic honeymoon destinations for any budget Kerala's backwaters provide much more than boat races, lakeshore getaways, and peace & quiet. Here are the top things about its attractions and backwater tourism in Kerala that can whet your appetite and help you organize your vacation more effectively.
Expect the Ultimate Rural Life Experience
The seductive beauty of its backwater towns is difficult to put into words. Kerala's wonderfully beautiful and pleasant villages have remained largely unchanged for decades. Visit Kumarakom Island, which is located on the shores of Vembanad Lake and provides a 360-degree panorama of village life that has been immensely improved by farmers, finest craftsmen, and fishermen. Alleppey village tours are a wonderful blend of a captivating network of canals, stunning lagoons, and verdant paddy fields. Don't miss out on the opportunity to try your hand at pottery or fish in a traditional fashion, both of which are offered by the Kerala backwaters.
For Accommodation and Transportation in Kerala, a Houseboat Cruise is your Best Option
A story of how people expanded their culture and traditions to a larger level, from cargo boats to refurbished luxury houseboats. Floating constructions were decorated with mirror-like reflections to provide a world-class experience on a man-made network of lakes. Depending on their features, such as how many bedrooms they have, houseboats are classified. There are different houseboat packages for different budgets, varying in luxury, number of bedrooms, and scenic routes. The price of the trip is approximately Rs.7500 to Rs.45000, excluding the voyage there. A traditional houseboat, or Kettuvalam, is a famous tourist attraction, especially in Kerala. You can eat a meal, watch cultural activities, and see the beautiful sunset over the peaceful seas. All of the itineraries are picturesque, but a two-day cruise from Alappuzha to Kochi offers the best of the backwaters. Kettuvalams can also be found at Kollam, Kottayam, Ernakulam, Thrissur, Kasaragod, Kumarakom, and Thiruvananthapuram. Exotic sailing makes you happy and amazing. Shikara, a wooden boat, is relatively modest in size, and you can opt for Motorboats for tourist sites if you're short on time and wish to explore in double-quick time.
There are a Plethora of Watersports Available to you  
Kerala has everything from lush green freshness to cultural majesty. There are many ways to experience Alappuzha's backwaters, including kayaking and canoeing, which are popular sports in the region. You will not be able to explore the magnificent backwaters of Kerala on a houseboat, so consider adding a Kayak to your itinerary. You can pause to take in the breathtaking surroundings while paddling tiny canals and rowing to heavenly locations. Also, Read: Top 10 Famous Waterfalls in India
Kerala's Backwaters are Ideal for Shopping 
If you know you're going to Kerala, you're likely to receive a call from someone who wants to send you banana chips, mainly because of their taste, which is known locally as Nenthra-kaya upperi. During the tour, sampling locally produced Toddy (Palm Wine) is a must. Toddy shops are located conveniently along the road. Moreover, you have the option to choose between artefacts inspired by Kerala or organic spices and essential oils. Aside from backwater items, travellers may be interested in Kerala's the Western Ghats and its flavoured tea, Nilgiri Tea.
Every Season is a Great Time to Visit
Yes, Kerala welcomes travellers all year round, and the weather is good, but the months of November to February may be great for visiting the location due to mild temperatures. Summer is hot but not humid, so you can still go experience its natural beauties. The rains make the backwaters romantically enticing, and this season exhibits its greenest best, so plan a trip to Kerala between June and September. Also, Read: Unique Places to Visit in India
The Kerala Backwaters make you feel alive, and there's a lot more to do on and around Kerala's magnificent water network. Without a doubt, you'll appreciate a variety of activities as well as a unique approach to experiencing God's Own Country and its beautiful product, the Kerala Backwaters.